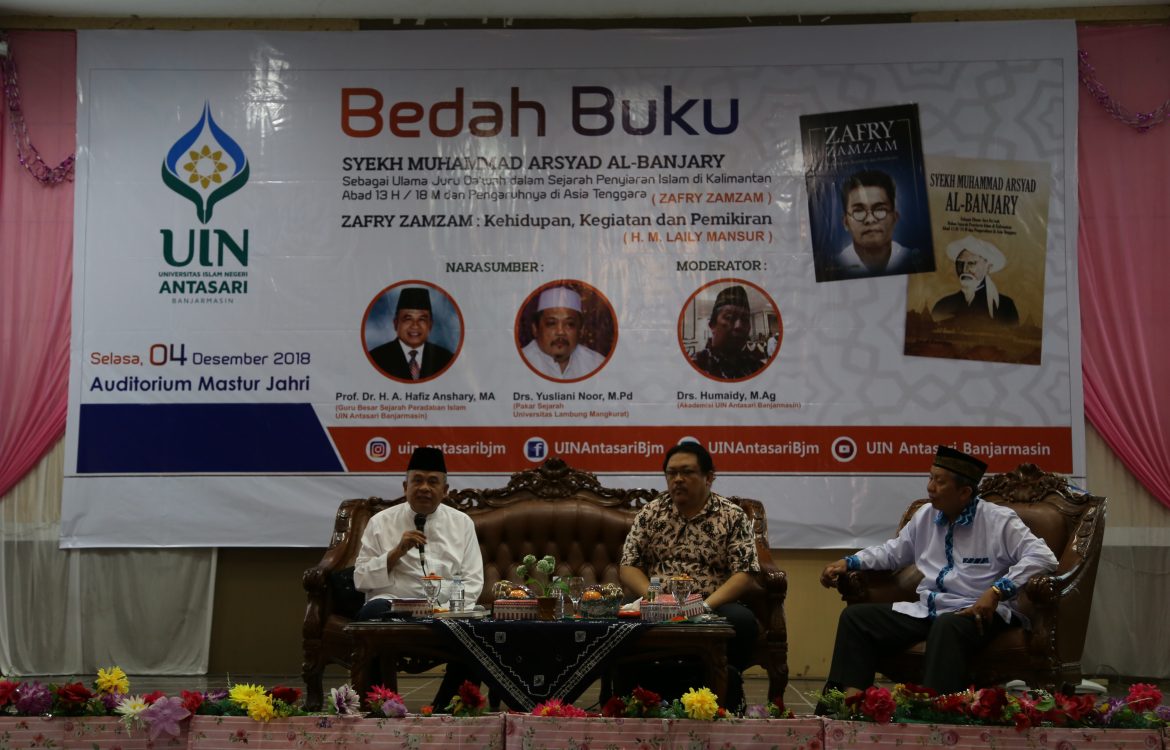 Mujiburrahman: Zafry Zamzam is the Beginning Spirit of Islam, Modernity and Nationality in South Kalimantan
"The Life Story of Zafry Zamzam is the struggle of Islam, modernity and nationality that takes place in South Kalimantan. Zafry Zamzam is the person who dared to oppose the idea of ​​an Islamic state in the 1950s, he still insisted on wanting Pancasila." He wanted Islam to be modern, Islam is advanced and at the same time Islam is part of Indonesia. This was stated by the Chancellor of UIN Antasari Banjarmasin Prof. Dr. H. Mujiburrahman, MA while giving a speech at the opening of Zafry Zamzam's Book Review: Life, Activities and Thought by H. M Laily Mansur and Syekh Muhammad Arsyad Al-Banjary as Ulema of the Da'wah in the History of Islamic Broadcasting in Kalimantan, 13th Century H / 18 M and Its Impact in Southeast Asia by Zafry Zamzam at Mastur Jahri Auditorium of UIN Antasari Banjarmasin, Tuesday (04/12/2018)
The book review, which was attended by nearly 400 people from various regions and circles, presented Prof. Dr. H. A.Hafizh Anzhary AZ, MA (Professor of Islamic History and Civilization UIN Antasari) and Drs. Yusliani Noor, M.Pd (History Expert of Lambung Mangkurat University) as resource persons and Drs. Humaidy, M.Ag as moderator.
In his speech, Mujiburrahman also stated that the implementation of the book review was motivated by the many requests from both inside and outside UIN Antasari Banjarmasin campus after the launch of the two books during the commemoration of the 100th anniversary of Zafry Zamzam and Antasari Award 2018 last November. In his opinion, the book review activity on the figure of Banua is a first step towards realizing the pillars of the scientific philosophy of UIN Antasari Banjarmasin, which are locally based and have global insight.
"The works of our ulema and scholars who elevate the intellectual, social, cultural and historical treasures of the people of Banua Banjar especially Islam must be a concern for all of us, concentrating on the characteristics of the services of the UIN Antasari Banjarmasin community, not to be done by other parties. It is embarrassing", said Mujib.
Therefore, the study of the two figures of Sheikh Muhammad Arsyad Al Banjary and Zafry Zamzam is not just a bedtime story, it is an attempt to learn from the past which Ibn Khaldun called Ibrah, which means crossing from facts to meaning and from events to moral lessons that can be taken from the occurrence. However, according to Mujib, sometimes when people write about both personages, they can fall into two gaps. the first is idealizing the past where a person in the past was described as a very devoid of disability or commonly known as manaqib (hagiography), of course this is different from the biography that tries to describe it as it really is not only highlighting the aspects that are admired from the personage. Tthe second is person can also review the character by berating the personage. This is because people read the past with today's glasses. "The era of Zafry Zamzam has no internet yet, there is no laptop and there is no computer, if it is measured by the present time, of course his work is not too great, but if we read it in the context of the era it will be very extraordinary," he explained.
The Professor of Religion Sociology also informed that at the end of 2018, UIN Antasari will also launch two important works, they are:
The revised edition of the Banjar ulema from time to time, once published by MUI South Kalimantan;
Revised Al-Qur'an Translation into Banjar Language, because after it was launched early last year there were still some typing errors.