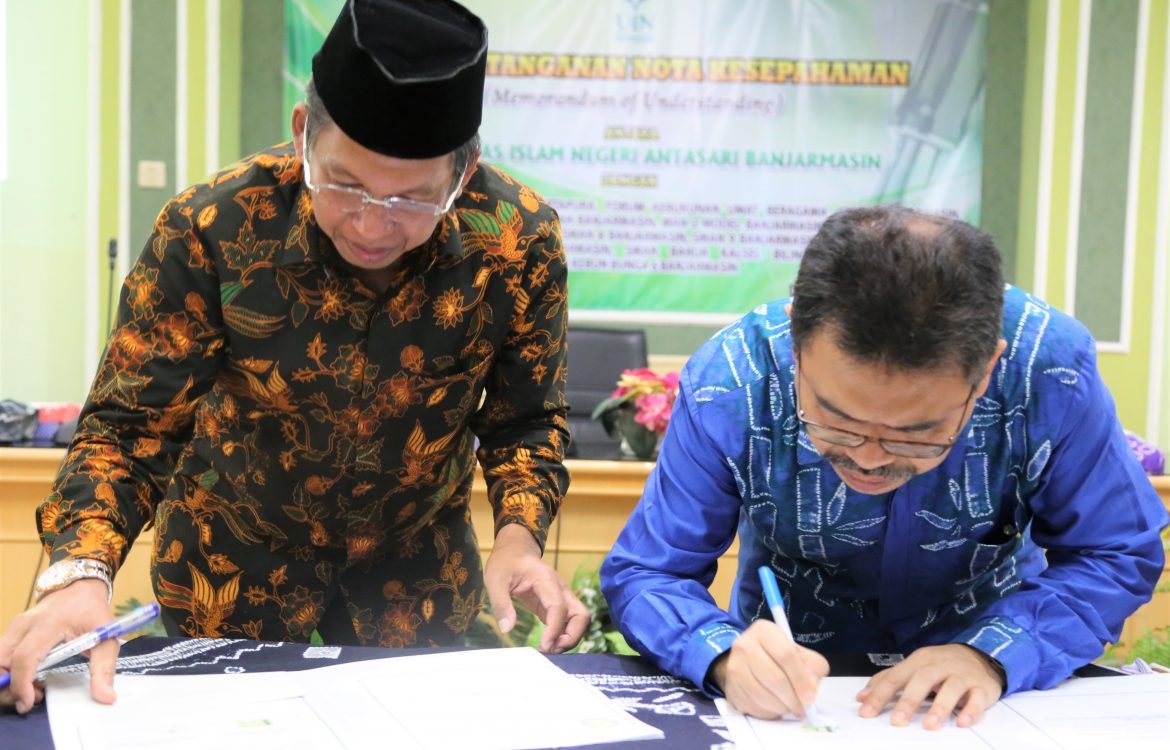 Again, UIN Antasari Signed 12 New MoUs
Thursday (2018/04/18) – A total of 12 institutes signed an MoU with UIN Antasari Banjarmasin at the Hall of Zafry Zamzam. MoU which was witnessed directly by the Chancellor Prof. Dr. H. Mujiburrahman, MA. was also attended by Deputy Chancellor for Academic and Institutional Development Dr. H. Hamdan, M.Pd., Deputy Chancellor for General Administration, Planning, and Finance Dr. H. Sukarni, M.Ag., Deputy Chancellor for Student Affairs and Cooperation Dr. Hj. Nida Mufidah, M.Pd., Head of the AAKK Bureau Drs. Mukhlis, M.Pd., the deans, heads of institutions and units, as well as the heads of division and the heads of subdivision. Those twelve institutes are Darussalam Institute For Islamic Studies Martapura, Forum of Religious Harmony Banjarmasin, Putera Syariah Insurance Banjarmasin, MAN 2 Banjarmasin, SMAN 3 Banjarmasin, SMAN 4 Banjarmasin, SMAN 8 Banjarmasin, SMAN 9 Banjarmasin, SMAN 10 Banjarmasin, SMAN 11 Banjarmasin, SMAN 12 Banjarmasin, and SDN Kebun Bunga 6 Banjarmasin.
Representing the speech of the MoU partners, representatives from IAI Darussalam stated that the memorandum of understanding was very helpful especially for IAI Darussalam itself. "IAI itself has just switched status from high school to institute. We only have 3 faculties with 6 study programs so this MoU is very important for the development of the institute. In order to build a good institution, cooperation is highly needed and can have an impact on the quality of higher education in South Kalimantan, "he said.
The Chancellor of UIN Antasari himself stressed that his party was very open with cooperation. "So far UIN Antasari has 224 collaborations and 17 of them are international cooperation. I hope that this collaboration is not only on paper, but we must make it happen with action as a commitment to improve our quality together, "he explained in his remarks. Mujiburrahman hoped that IAI Darussalam specifically can establish cooperation in the field of research dissemination as has been done by UIN Antasari in Palembang, as well as future plans in Samarinda and Malaysia. "We really hope that the results of the research can be known to the public and policy makers. Postgraduate of UIN Antasari has collaborated with Duta TV for 2-3 times in a month about special screenings related to this. Hopefully, it is known so that policy makers can provide benefits, "added Mujib. (fdh / PR)